Worshiping Jesus and Serving Others for 180+ Years
"Each of you should use whatever gift you have received to serve others, as faithful stewards of God's grace in its various forms."
— 1 Peter 4:10
---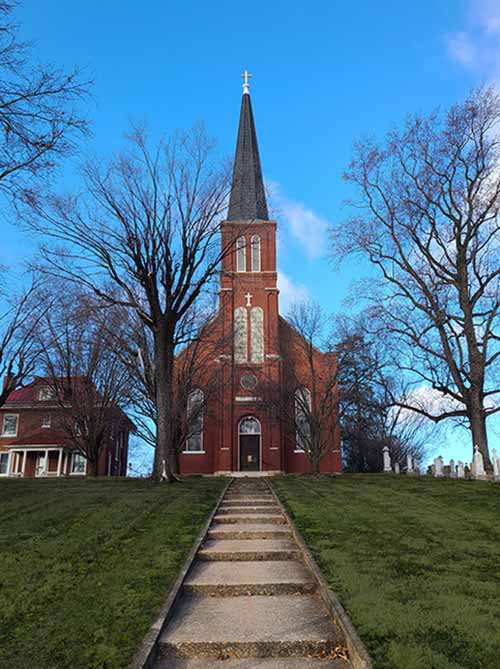 Sitting high on the bluffs overlooking the towns of Marthasville and Dutzow, along with the majestic Missouri River, St. Vincent de Paul Church and School got its start more than 180 years ago in this very location. The first church was humbly built with logs in 1842 and gave way to the present building just over 30 years later, in 1875.
Our church and school are named after St. Vincent de Paul, the patron saint of charitable societies, who is known for his compassion for the poor, sick, and suffering.
"We cannot better assure our eternal happiness than by living and dying in the service of the poor, in the arms of Providence, and with genuine renouncement of ourselves in order to follow Jesus Christ."
– St. Vincent de Paul
Join Us for Mass, Confession, & Adoration
We have an open invitation and all are welcome to join us as we praise God.
Mass times are as follows:
Mass Times
| Weekend Masses | St. Vincent | Immaculate Conception |
| --- | --- | --- |
| Saturday | 5:00pm | 8:00am* |
| Sunday | 10:30am | 8:00am |
*First Saturday of the month, followed by confession
| Week Day Masses | St. Vincent | Immaculate Conception |
| --- | --- | --- |
| Monday | | 8:00am |
| Tuesday | 7:30pm | |
| Wednesday | 8:00am | |
| Thursday | | 8:00am |
| Friday | 8:00am | |
| Confession | St. Vincent | Immaculate Conception |
| --- | --- | --- |
| Tuesday | 7:00 – 7:15pm | |
| Saturday | 4:15 – 4:45pm | |
| 1st Sat of the month | | 8:30am |
| Adoration | St. Vincent | Immaculate Conception |
| --- | --- | --- |
| Tuesday | 5:30 – 7:30pm | |
| 2nd Tues of the month | | 5:30 – 7:00pm |
| Devotions | St. Vincent | Immaculate Conception |
| --- | --- | --- |
| 1st Saturdays | | 8:00am Mass & Confessions |
| Tues: Mother of Perpetual Help | After Evening Mass | |
| Mon: Mother of Perpetual Help | | After Morning Mass |
| Tuesdays: Rosary | 7:10pm | |
| Lenten Tuesdays: Stations of the Cross | After Perpetual Help Devotion | |
| Lenten Thursdays: Stations of the Cross | | After Morning Mass |
---
We're Steadfast in Our Journey to Glorify and Honor God
Throughout our church and school, and as God's people, we strive to make Jesus Christ present in our daily lives through divine worship, Christian education, service to our neighbors, and by conducting ourselves ethically with generous hearts and industrious lives  — all to give glory to and honor God. We do this through teaching others about Christ, whether it's in the parish or through our school.
Early on, our church founders recognized that providing a high-quality, Catholic education is vital to our mission. Since 1884, one of the primary ministries of the parish has been the school, and to this day, we strive to live up to our mission by educating students of all denominations from preschool through eighth grade. All are welcome at our school, and we accept and love each and every student who walks our halls.
We know that the success of our school comes with great sacrifices by our committed parents, dedicated faculty, and generous parishioners. It has been through dedication and sacrifice that we have created a loving, caring, and nurturing environment for youth to learn and grow. Passing on our faith generationally is one of our main goals, received from Christ himself.
---
"Blessed are those who find wisdom, those who gain understanding."
— Proverbs 3:13
Staff Members at St. Vincent de Paul Parish
Pastor– Father Doyle
Office Manager– Jacquie Shaper
Bulletin Editor– Sara Maune
Music Coordinator– Rebecca Brinker
Parish/Finance Council
Doug Hindersmann (Chair)
Rick Mueller
Donna Hellebusch
Tony Ballmann
Gena Mayer
Dan Wessel
Carl Schroer
Greg Schneider
Karen Holtmeyer
Rick Gratza
Darren Holtmeyer
---
Our Faith History Spans More Than a Century
The parish of St. Vincent de Paul has a rich, long history. In the early nineteenth century, immigrants from Germany purchased parcels of land and settled in the area. According to Church records, the Jesuits stationed in St. Charles were visiting Dutzow once a month in 1836. By 1839 a parish church was established, and dedicated to Sts. Peter and Paul. The Jesuits from Washington, MO, served the parish in these early years.
In 1851, Archbishop Kenrick decided that both Augusta and Dutzow should each have their own church. Five years later, in 1856, Fr. Christian Wappelhorst was named the first resident pastor of St. Vincent de Paul.
In 1874, Fr. John Heckmann laid the cornerstone of the present brick church. The church was constructed for approximately $15,000. Much of the material was brought by riverboats and hauled to the site by parishioners with teams of wagons. The church was completed and the altar was consecrated on September 25, 1875. The name inscribed above the door is "St. Vincent Kirche," reflecting the strong German heritage of the parish.
Fr. Bertens succeeded Fr. Heckmann in 1878 and served as pastor until his death in January 1900.
In 1913, the present St. Vincent School building was constructed, and two years later, the present rectory was built. Father Bertens' Council No. 1927 of the Knights of Columbus was established in Dutzow in 1918.
The church has been through some rough periods. In November 1923, it was heavily damaged in a fire and a new roof was installed. The following year, on Holy Saturday, the new roof blew off in a violent windstorm. Thankfully, the roof was well-insured and no one was injured.
The school was renovated and an addition was made in 1960, bringing indoor restrooms to the school for the first time. In 1978, the St. Vincent community broke ground for another addition to the school, including three classrooms, a library, and a small gymnasium.
In 2000, the parish expanded the school building again with classrooms, science and computer labs, a dining hall, and new offices for the parish. St. Vincent de Paul Parish celebrated its 150th anniversary as a parish in the Archdiocese of St. Louis in 2006.
---
Faith on Demand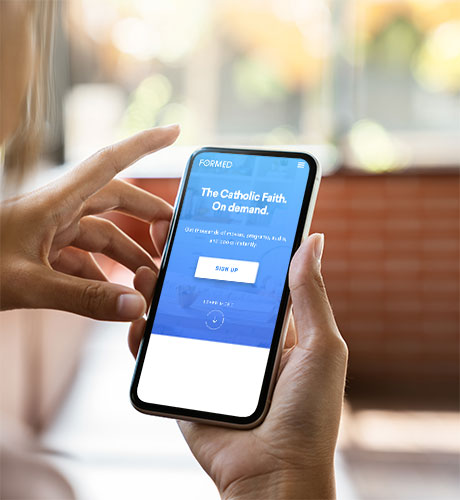 St. Vincent de Paul uses Formed: The Catholic Faith. On Demand. Parishioners can get thousands of movies, programs, audio, and books about living an authentic Catholic lifestyle for free.
To join:
Visit Formed.org
Click "Sign Up"
Select "Sign Up as a Parishioner"
Enter the ZIP code 63357 and your Email.
You're all set! Learn more about the Catholic faith, watch or read daily devotions, and grow in your faith on your own schedule.
We're Part of the Archdiocese of St. Louis
St. Vincent de Paul is one of 178 parishes of the Archdiocese of St. Louis. Learn more about what it means to be Catholic through the Archdiocese. St. Vincent de Paul is one of the Patron Saints of the archdiocese. You can learn more about St. Vincent de Paul here.
All Are Welcome
We hope you'll join us at mass— view the schedule here.