Walking Together on a Christian Journey
God is not unjust; he will not forget your work and the love you have shown him as you have helped his people and continue to help them. Hebrews 6:10
---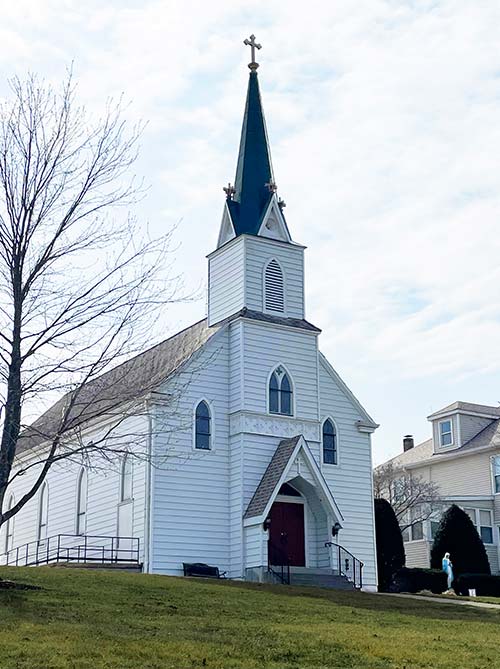 Nestled in the beautiful foothills of St. Charles County just North of Augusta, Immaculate Conception Church was founded in the mid-1800s. The church and its outbuildings offer breathtaking views of the Missouri River Valley.
From Humble Beginnings: A Brief Parish History
Though what would become Immaculate Conception Parish was proposed as early as 1846, there was some initial controversy about its location. According to church records, during this time, Jesuits visited Augusta (which was then called Mount Pleasant) every few weeks, and Catholics in the area attended St. Vincent de Paul, our sister parish in Dutzow.
A plot of land was donated in the late 1840s, and a small wooden structure was constructed slightly southwest of the present school. The church was modest – only the aisle had a floor and pews were placed on the bare ground – but it was a place to worship Christ together, and the mostly German immigrants who had settled now had a church home.
Jesuits stopped visiting the area in 1865 after a resident pastor was installed at St. Vincent de Paul. As the parish became more established, parishioners decided it was time to create a more modern place of worship and a new church was constructed beside the old one. Gothic-inspired, the church was built with a frame structure and a steeple surmounted by a gilt cross six feet in height. The beautiful, stately structure can be seen for miles.
Even today, the church's interior ranks high among rural churches in its beauty of design and appearance. The church was completed in the fall of 1901 and a short time later – in 1904 – Immaculate Conception received a resident pastor.
Join Us for Mass, Confession, & Adoration
We have an open invitation and all are welcome to join us as we praise God.
Mass times are as follows:
| Weekend Masses | St. Vincent | Immaculate Conception |
| --- | --- | --- |
| Saturday | 5:00pm | 8:00am* |
| Sunday | 10:30am | 8:00am |
*First Saturday of the month, followed by confession
| Week Day Masses | St. Vincent | Immaculate Conception |
| --- | --- | --- |
| Monday | | 8:00am |
| Tuesday | 7:30pm | |
| Wednesday | 8:00am | |
| Thursday | | 8:00am |
| Friday | 8:00am | |
| Confession | St. Vincent | Immaculate Conception |
| --- | --- | --- |
| Tuesday | 7:00 – 7:15pm | |
| Saturday | 4:15 – 4:45pm | |
| 1st Sat of the month | | 8:30am |
| Adoration | St. Vincent | Immaculate Conception |
| --- | --- | --- |
| Tuesday | 5:30 – 7:30pm | |
| 2nd Tues of the month | | 5:30 – 7:00pm |
| Devotions | St. Vincent | Immaculate Conception |
| --- | --- | --- |
| 1st Saturdays | | 8:00am Mass & Confessions |
| Tues: Mother of Perpetual Help | After Evening Mass | |
| Mon: Mother of Perpetual Help | | After Morning Mass |
| Tuesdays: Rosary | 7:10pm | |
| Lenten Tuesdays: Stations of the Cross | After Perpetual Help Devotion | |
| Lenten Thursdays: Stations of the Cross | | After Morning Mass |
---
Generations of Serving Christ With Zeal
A quote from the Souvenir of the 1926 Diamond Jubilee is still fitting of Immaculate Conception Parish at Augusta. And though it was said nearly 100 years ago, we still work to live up to the standards set by our ancestors.
"Although the parish is small in numbers, it is well organized, and the people are deeply religious and zealous in their faith, which they inherited from their forefathers, who came to this country as immigrants from Germany.

Good homes, law-abiding citizens, thrifty and saving in their daily lives, and although only a few generations retained, they have retained the good qualities of their ancestors. The members of the parish have always shown great interest in their church, and because of the smallness of their number they have often been called on to make greater sacrifices than many Catholics living in a larger parish.

Willingly have they made these sacrifices, always cooperating with their priests in all undertakings for the common good and the glory of their religion."

-Fr. A.T. Strauss 1926
Our Church Today
Today, Immaculate Conception Church serves approximately 106 diverse families. Immaculate Conception shares a pastor with St. Vincent de Paul. Father Doyle provides the spiritual needs of the parish and guides it in financial and administrative issues.
Children are welcome to attend St. Vincent de Paul School for a high-quality education or to attend PSR, both of which are focused on making Jesus Christ present in the lives of future generations. Like St. Vincent de Paul, we are among the 178 parishes in the Archdiocese of St. Louis. Learn more about what it means to be Catholic through the Archdiocese.
Our Parish Mission
Immaculate Conception Parish seeks to live according to our mission: Faithful to the Gospel values of our Lord Jesus Christ, we strive to fulfill our baptismal call by worshiping together, sharing our faith, and serving others in the name of Jesus. Guided by the Holy Spirit, we commit ourselves to be responsible stewards of God's gifts. All for the Glory of God and the good of all people.
Staff Members at Immaculate Conception
Pastor– Father Doyle
Admin. Assistant– Connie Struckhoff
Bookkeeper– Doug Paule
Music Coordinator– Mary Ann Kluesner
Parish/Finance Council
Connie Struckhoff (Chair)
Lori Aholt
Mary Ann Kluesner
Doug Paule
Tom Aholt
Guy Middleton
Carroll Struckhoff
PSR
MaryAnn Kluesner (Director)
Virginia Mattera
Judy Ditch
Judy Struckhoff
---
Join Us for Mass
Our parish is open and welcoming of guests. You'll find a loving community built around Christ, and one that loves to serve others for the glory of God.