Why Should Your Children Attend St. Vincent de Paul School?
At St. Vincent de Paul School, children are our passion. We base everything we do on what is best for our Redbirds, and love nurturing and helping them grow into kind, compassionate community members. We strive to live up to our mission "to make Jesus Christ present in our daily lives through divine worship, Christian education and service to all people; and to strive to give glory and honor to God through ethical conduct, Christ-centered education, caring hearts, and responsible lives."
Preschool Through 8th Grade Academics
We have both a preschool and school-age program for students.
Preschool
Our goal is to have a small student-to-teacher ratio of 10:1. Children ages 3-5 by August 1 can attend our preschool program starting in August. Children who are 3 years old by January 1 may start preschool after the new year. All students must be potty-trained and immunized according to the Missouri Department of Health and Senior Services guidelines.
Our programs include full-time and part-time options:
5 full days: 6:45 am — 3:30 pm
4 full days: 6:45 am — 3:30 pm
3 full days: 6:45 am — 3:30 pm
Preschool Admission
If there is a preschool waiting list, students are accepted based on the following criteria:
Current preschool students
Siblings of current students
Students from St. Vincent, Immaculate Conception, or Immaculate Heart of Mary parishes ("our 3 parishes) who plan for their child to attend through eighth grade
Students from other parishes who plan for attendance from kindergarten through eighth grade
Children from our 3 parishes not planning to attend through eighth grade
Children not from our 3 parishes who don't plan to attend SVS through eighth grade
Preschool Schedule
Class begins at 8 am. Students participate in morning work, calendar time, religion, recess, centers, STEM, and other academic lessons. Students are taught using the Unified Curriculum from the Archdiocese of St. Louis. Lunch is available for an additional fee.
After school care, called Fun After School Time (FAST), is available to preschool students through 6 pm each day. The annual FAST registration fee is $25 per family. Daily rates are $7 for one child and $12 for two or more children.
Our Preschool Teachers
Our youngest learners are taught by Miss Ashley, Miss Nicky, and Mrs. Amanda. Learn more about each on the staff page.
---
Elementary Education at St. Vincent de Paul
Our school philosophy centers around a four-fold mission of Christ with a focus on the Word's message, community, worship, and service. We believe that living according to God's will can be achieved by hearing the message of God's love, acting upon it with your faith community, participating in worship, and through living a life of service as Jesus taught and demonstrated. Through building a faith community, we work to give students the best foundation for a Christ-centered life and to provide them with an education that will have lifelong benefits.
We're committed to developing the whole child through relational and inter-relational experiences, and we're proud that most of our students stay with us through eighth grade. Everyone involved in your child's education embraces the capability of building a positive image in each individual. We help achieve this through our core values.
Core Values: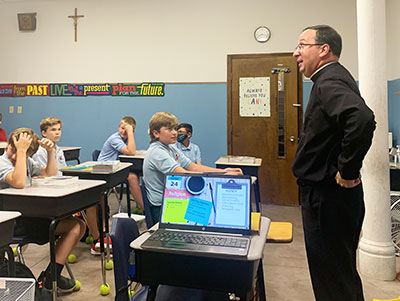 Faith: We attend Mass twice each week and religion classes three times each week.
Leadership: We encourage youth leadership through our Student Ambassadors program and through the active encouragement and recognition of acts of kindness.
Love: We use virtue-based restorative discipline to demonstrate love.
Service: Students in 7th and 8th grade participate in an Acts of Service Class each week. All students are encouraged to be selfless and to serve others in Christ.
Our Elementary Teachers
Fun Fact: A few of our teachers have been at St. Vincent de Paul for decades, and even taught some of our other, newer teachers and staff members. Our roots run deep at SVS, largely because of the love and care that our teachers have for their students. Check out our teacher bios on the staff page.
Our Curriculum
We are a 1:1 school with devices, meaning every student has an electronic device to use for learning. We utilize the Unified Curriculum from the Archdiocese of St. Louis, and we have a learning consultant on campus who can help coordinate special services for students, some of which we partner with the School District of Washington for — including the Challenge program for advanced students. Teachers also have authority to be flexible with students to differentiate education based on their learning needs.
Extracurricular Activities
A well-rounded education includes more than the core curriculum. Sports and clubs play an important part in your child's educational journey. We have a number of sports and clubs to build community and friendships among students and to help teach valuable life lessons. Opportunities include:
Boys and Girls Basketball
Girls Volleyball
Cheerleading
Running
Crafts
Math
Archery
Student Ambassadors
Questions?
More information, including the family handbook, can be found in our school information system, FastDirect, or feel free to contact us.