Tuition Costs at St. Vincent de Paul School
At St. Vincent de Paul, we understand that a private school education is a big investment. We strive to provide a quality, Christian education while helping children imitate Christ and His message in their thoughts and deeds. We're here to help answer your questions and to help you feel confident in the educational decisions you make.
We accept Catholic and non-Catholic students in kindergarten through eighth grade who have a desire for a faith-centered education. All students must be approved by the pastor and new students are admitted who are siblings of current students, children of parishioners of St. Vincent de Paul, Immaculate Conception, and Immaculate Heart of Mary, Catholic children who aren't members of the previous parishes, and non-Catholic children, in order of preference.
Enrollment opens to current families at the beginning of February. Open enrollment begins with an Open House on the first Sunday of the month. Enrollment remains open unless maximum class sizes are reached.
Tuition & Fees for Kindergarten Through Eighth Grade
Parishioners of St. Vincent de Paul Parish:
One child – $5,490 per year/ $457.50 per month
Two children – $7,548 per year/ $629 per month
Three or more children – $9,141 per year/ $761.75 per month
Parishioners of Immaculate Conception, Augusta and Immaculate Heart of Mary, New Melle:
Per child – $7,251 per year, which includes a parish subsidy




Other parishes and non-Catholic students:
Annual Fees:
Registration – $100
Book/lab/technology – $225 per child
---
Before and After Care + Hot Lunch Costs
Care Before School Begins
Before care currently runs from 6:45 — 7:30 am
We offer
free
before school care.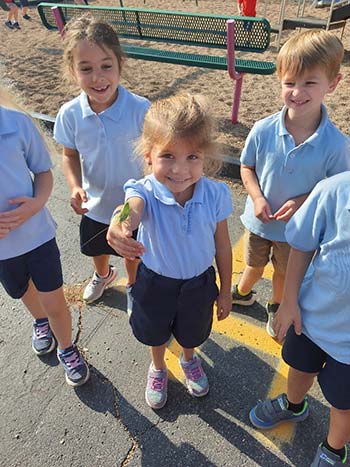 Care After School: FAST
After school care runs from 3 — 3:30 pm
For families that need extended after school care, we offer a Fun After School Time (FAST) program from 3 pm — 6 pm each day. The annual registration fee is $25 per family, and daily rates are listed below.
Daily FAST rates are:
$7 for one child
$12 for two or more children
Hot Lunch fees:
K-4th Grade: $58/month for 9 monthly payments
5th-8th Grade: $63/month for 9 monthly payments
Free and reduced price lunches are served to those who qualify through the state of Missouri.
Financial Aid Available
Families can apply for St. Louis Archdiocese Scholarships by completing a TTEF (Today and Tomorrow Educational Fund) application online, at www.ttef-stl.org. St. Vincent de Paul also has scholarships and tuition assistance.
Learn More with a Guided Tour
Guided tours are available. For more information or to request an enrollment packet or a tour, call (636) 433-2466 or email svschool@centurytel.net.