Sports, Clubs, & More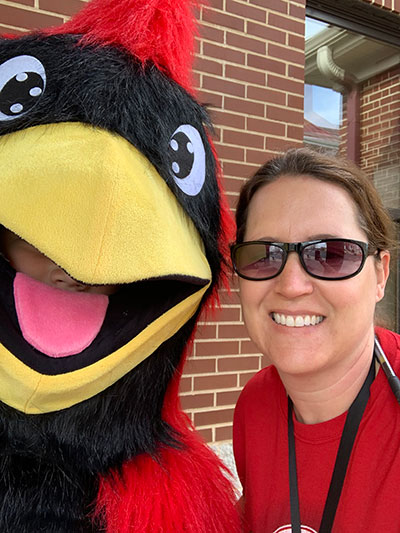 Students at St. Vincent de Paul can exercise their minds and bodies with sports, clubs, and extracurricular activities. We are proud to be Redbirds, and Vinnie — our mascot — often makes special appearances at our games and activities, from parent-teacher conferences and book fairs to open houses, breakfasts, parades, and more.
We believe sports and clubs are another way to build relationships between students and coaches, to teach valuable life lessons, and to have fun, all for the glory of God. For us, every activity we participate in gives us an opportunity to show our students how to live a grace-filled life. We're proud to be revered as fierce competitors, but above all, we're known for our strong sportsmanship and superior work ethic.
---
Get Your Game On at St. Vincent de Paul
For our sports teams, St. Vincent de Paul joins forces with the neighboring St. Ignatius of Loyola School in Concord Hill (just outside of Marthasville) to support a full roster. We play local public and private schools and travel within and outside of Warren County.
Our athletics program is for students in fifth through eighth grades and includes:
Boys and Girls Basketball
Girls Volleyball
Cheerleading
Grades 5-6 focus on basics and fundamentals, while grades 7-8 focus on using those fundamentals to play at an increased competitive level.
And let us run with endurance the race that is set before us. Hebrews 12:1
Clubs Allow All Students to Get Involved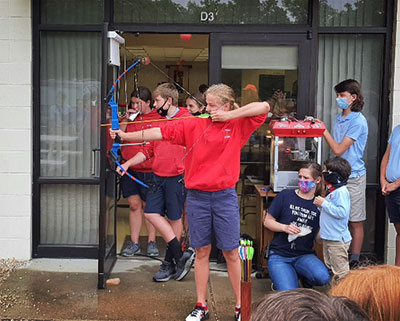 Clubs provide another avenue for students to interact with one another, learn something new, improve skills, stay mentally sharp, and be active outside of the classroom. There's something for everyone, from crafts to running, archery, and more.
Clubs and other activities include:
Running, Grades K-8
Crafts, Grades K-2
Math, Grades 3-4
Archery, Grades 3-8
Student Ambassadors, Grades 5-8
Student Ambassadors are chosen to represent the school in core values of faith, leadership, love, and service. Students who apply are selected based on grades, their application, and professionalism during an interview round with faculty members.
No matter their interests, students at St. Vincent de Paul School can find something they love to build on their skills and enhance their overall educational experience.